9 000 km of Transsiberian railway offers a fantastic opportunity to those who search for adventures!
Transsiberian Railway was constructed as a bridge between Europe and Asia. With its 9 288 km it is the longest railway in the world. It passes through 87 cities and towns, its starting point being Yaroslavvsky Railway station in Moscow and its terminus – the city or Vladivostok. Its contrsuction began in 1891 and finished in 1916. While the first trains had separate cars for women, smokers and priests, now you can choose among different classes (from 3rd to Lux). It is up to you whether you choose to take the train in Moscow and get off in Vladivostok or stop and visit the places you wish on the way.
This trip offers a vast choice of options to make your experience really unforgettable!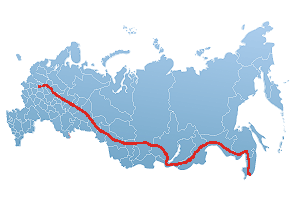 Choose the option that suits you. You can buy the package that we offer above or choose a customized itinerary. Make the right choice according to your desires.