Chukotka is one of the most isolated regions in the world. Its indigene peoples like Chukchi and Eskimos live in small villages dispersed in eternal tundra. The few tourists to come here (2000 people per year) have the opportunity of admiring fantastic colors and odors. In winter it is polar night here with much snow, arctic winds and mystical auroras.
Wrangel Island is a breeding ground for polar bears
Wrangel Island belongs to the world heritage of UNESCO as a unique arctic ecosystem. For its specific climate it was not covered by glaciers during the last ice age, so its development has never stopped. It thus boasts a wide variety of endemic plants and lemmings. Wrangel Island was the last place where mammoths survived and disappeared only round 2000 B.C., which is proved by numerous relatively recent skulls.
The sanctuary of the Island is home to the largest population of Pacific walrus and a number of other marine mammals (walrus, seals, etc.). Due to this as well as the fact that ice doesn't melt here till late summer (in 2013 till September!), Wrangel Island is a perfect hunting place and home for polar bears, where they come to give birth to their cubs.
Besides its natural attractions, Wrangel Island is interesing for its history, since it was had to do with many historical events starting from conquering Arctic in the middle of the 19th century to conquering the seas by petrochemical companies, including the legendary GOULAG.
It is possible to visit Wrangel Island, however the trip should be arranged well in advance in order to get all the required permits.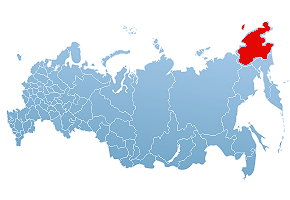 Durations: 14 days
Dates: August 2017
Route: Anadyr – Provideniya – Novoye Chaplino – Arakamchetchen – Merkinkan – Yanrakynnot – Anadyr
Being a wild and unique land, Chukotka is a challenge to discover. It is almost as difficult to get and travel through Chukotka as it was at the beginning of the 20th century. Due to the fact that there are no roads, the only way to travel along its coastline is by boat. It should be noted that the whole route can be influenced by the weather conditions in the region. At the moment Chukotka knows no mass tourism, and very few tourists come here at all. Local national parks will not offer you comfortable pedestrian routes, nor tourist offices selling postcards. Chukotka is the kingdom of sea animals, such as walruses or whales, it is the land of Chukchi, who are mostly reindeer breeders or sea hunters.
Despite its "sovietization" in the past, local peoples have managed to maintain their culture and traditions. Our group will be led by a Chukchi guide, who knows perfectly his local region. Take the
challenge of participating in an expedition following the route of Vitus Bering and Jean Malaurie, who was the first European to discover the famous Whale Bone Alley.
Highlights
We will visit magnificent Emma Bay and admire Chukchi and Eskimo folk dances;
A 6*6 will take us to the Eskimo village of Novoye Chaplino, where we will have lunch with local people;
We will watch whales and sea birds in Chechekuillym Bay;
We will visit Arctic Stonehenge, a sacred Inuit site called Whale Bone Alley. It is a shamanist site, which was discovered only in 1976, and has very rarely been visited since then;
We will watch a huge sea bird colony on Nunengan Island;
We will take a thermal bath in the Senyavinskiye hot springs and taste tundra specialties;
We will see one of the largest walrus colonies in Chukotka on Arakamchechen Island. If we are lucky enough, on the way we will see whales, walruses and sea lions. We will walk across the island from Mys Kygynin to the northern part of the island, where the colony of walruses (from 500 to 3000 animals) is located;
We will gather berries and mushrooms;
We will go to Merkinkan Island, chosen by guillemots, puffins and other sea birds for their colonies;
We will spend some time in the Chukchi village of
Yanrakynnot (approximately 360 inhabitants, mostly sea hunters and reindeer breeders) to visit its school, hospital
and shop, we will dine at a local person's home and taste local dishes;
We will take a 6*6 to go to a reindeer breeders' site and admire magnificent landscapes of the valley of the Maritch and Genlaninvaam rivers on the way;
We will see what reindeer breeders' job is like and take a lesson of throwing a lasso;
We will spend the night in a real Chukchi yurt and enjoy the feeling of being on the edge of the world;
We will fish salmon and enjoy dishes cooked of freshly fished fish;
We will watch spotted and ringed seals;
We will buy some local souvenirs and to relax in a Russian banya.
Choose the option that suits you. You can buy the package that we offer above or choose a customized itinerary. Make the right choice according to your desires.