Russian North is rather a historical and cultural notion than a geographical or adminitrative region. It implies the northern part of the European part of Russia to the north of St.Petersburg, which is, by the way, not included, being rather considered the West in Russian history and culture.
Russian North comprises Karelia, the regions of Arhangelsk, Lake Onega, the White Sea, the Northern Dvina, etc.
Vast woods and numerous lakes make this region a dream destination for those who prefer active holidays: rafting, kayaking, jeeping, hiking, etc.
The Kola peninsula with its rich variety of salmon species is a heaven for fishermen.
Those who are interested in history and culture will be impressed by  traditional Russian wooden architectural sites, orthodox sacred places and the fortress of Solovki, known for its bloody Soviet past.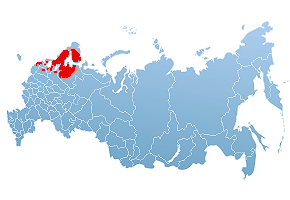 Choose the option that suits you. You can buy the package that we offer above or choose a customized itinerary. Make the right choice according to your desires.