The kingdom of mountains, lakes and rivers. The location of Altai in the middle of Asia defined its destiny millions of years ago.
This wild region is home to such a rare feline species as irbis, known also as snow panter or snow leopard. Since this animal inhabit remote mountail valleys up to 5500m it was even called the phantom of the mountains.
Discover the Gold Mountains of Altai, the world heritage of UNESCO and the culture of nomad people.
 Enjoy our Discovery tour or
contact us
for a customized trip!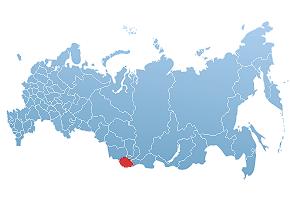 Examples of trips
Trip duration: 13 days
Group: from 2 persons
Season: Mai-September
Route suggestion: Gorno-Altaisk – Uimonskaya steppe – Aktru – Pazyryk – Tchulyshman Valley – Lake Teletskoye – Gorno-Altaisk
Live through this unique experience of admiring the fantastic landscapes of the Altai, one of the most gorgeous and wildest regions of Russia.
Discover another side of Siberia, that you cold have never imagined! The Golden Mountains if Altai belong to the heritage of UNESCO and are often compared to the Swiss Alps, however this region is unique for its history and culture.
Highlights
– Dive in the unique culture of Altai: the Scythians, the mummy of the princess of Altai, nomads;
– Watch bisons in their natural habitat;
– Get to know the traditions of Russian "Old Believers" who derived from the Orthodox Church during a schism in the 17th century. They have maintained their culture and mode of life despite of all further historical events;
– Visit a Neanderthal cave;
– Go along the old trade route between Mongolia and Russia in the Russian Tibet, the land of nomads;
– Watch wall paintings and rock sculptures;
– Feel the energy and charge your internal batteries in the so called "places of force";
– Get ready for absolutely incredible landscapes with turquoise lakes, lush valleys, snow covered mountains, infinite steppes, abundant rivers and waterfalls, such natural miracles as mushroom rock formations;
– Visit the most prominent archaeological site of Central Asia on Pazyryk plateau.
Choose the option that suits you. You can buy the package that we offer above or choose a customized itinerary. Make the right choice according to your desires.